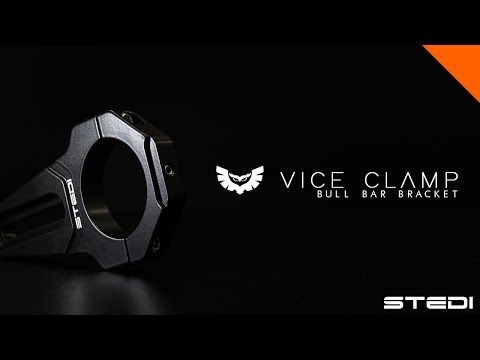 DIVERSE APPLICATION.
The STEDI™ Vice Clamp Bull Bar Brackets will meet the versatile application when it comes to side mounted & certain lower-mounted LED light Bars. Made from cast aluminium with stainless steel fasteners keeping it strong yet light weight as well as a polyester UV stable powder coat to reduce fade.
UNMATCHED VERSATILITY.
Its ability to rotate on the bar and 360° rotation of your LED Light bar will open up your method of mounting. Visually described in our product video you are able to face the clamps at any angle whilst still keeping the light facing forward.
SIGNATURE COMPATIBILTY. 
When mounted on a vertical bar you will find the majority of our LED Work lights will also mount straight into the Vice Clamp as well. Compatible with LED Work Lights from as small as the 10w Mini up to as large as 60w Mining Spec.
The nitty
gritty.
The STEDI™ 3" Universal Light Bar Mounting Bracket proves that tough doesn't need to be unsightly. Our brackets are guaranteed not to slip or fatigue no matter the environment. Unlike other generic clamps on the market, the aesthetical design of our light bar brackets facilitates a clean integrated install of your light bar work lights..
KEY TECHNICAL DETAILS
Molded from Cast Aluminum
Stainless Steel Fasteners included
Compatible with most side-mounted LED Light Bars
Polyester UV Stable Powder Coated
4mm set screw eliminates the possibility of slip.
Rubber inserts also included
In the event you do not have any vernier calipers, please measure the circumference (in mm) of your round bar and apply the below formula; diameter (mm) = circumference (mm) divided by / 3.14 = (Tube Diameter)
The price is for two brackets.
Tech Specs
| | |
| --- | --- |
| MATERIAL | Aluminum |
| DIAMETER | From 2.95" to 3.03" |
What's Included
2 x STEDI™ Vice Mounting Brackets (2.95" - 3.03")
4 x Rubber Inserts
2 x M8 Set Screws
2 x M6 Set Screws
2 x Grub Screws
4 x Stainless 8mm Bolts
2 x Allen Wrenches