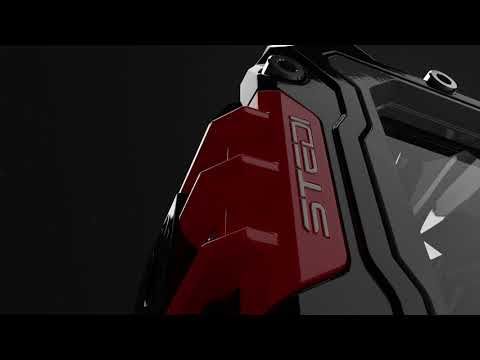 THE ULTIMATE LIGHT BAR
For almost a decade, the name STEDI has stood for cutting-edge design and market-leading performance.  The ST3303-PRO is an aggregation of all things that have made us the globally distributed, coveted brand born right in Australia.
A NEW REALM OF PERFORMANCE

Every good story starts with CREE LEDs. So, we commissioned CREE's XPL HI emitter, which represents a +9% increase in lumen output at the same drive current over the already great (but now aging) CREE XM-L2 found in the previous model. 9% doesn't sound like much, but the kicker is that the emitter die size drops down from 5 x 5mm to 3.5 x 3.5mm. Higher lumen density with tighter source improves the optic and emitter size relationship – We've effectively increased the optic diameter by 40% without physically increasing it. The result is huge light volume and tremendous beam throw. 
NOW, ARE YOU SITTING DOWN?  
Where others stop, we get started. The current draw is enormous, and quite literally unlike anything else on the market. The 60 LED variant draws 36 amp at 13.6v & @ 12.5v 40 amp. Have we got your attention yet? Now, you must, without any exception, we repeat, you must use the heavy-duty, dual relay (yes dual relay!), dual fused wiring harness we supply. The current is so intense, the 40 LED and 60 LED bars have two separate power cables (yes two separate power cables!) on either side of the light bar, and two separate breathers (yep two!) to deal with the enormous current draw. 
BAR NONE.
Unquestionably, ST3303 PRO sits at the pinnacle of the STEDI offering. A pure expression of capability and design that converges with brutal performance, making the all-new ST3303 PRO unmistakably STEDI. 
The nitty
gritty.
Introducing the STEDI ST3303-PRO, a high-performance double-row light bar that takes lighting to a whole new level. With almost a decade of cutting-edge design and market-leading performance, the ST3303 is the ultimate high-performance double-row light bar. With massive light volume and unparalleled beam throw, the ST3303 is truly the Gold Standard of LED Light Bars.
Beyond its exceptional performance, the ST3303-PRO boasts an ingenious design that ensures durability and reliability in any situation. With an IP68 rating, Optical Grade Hard-Coated Lexan lens, A360 Cast face plate and extruded Aluminum heat sink the ST3303 comes ready to conquer the toughest terrains.
The powerful combination of the spread and spot beam pattern combo illuminates the road ahead, offering enhanced visibility, especially during challenging weather conditions. With a heavy-duty Smart Plug & Play ADR compliant Wiring Harness, installation becomes a breeze, and the light bar seamlessly integrates into your vehicle's electrical system helping you elevate your off-road adventures to new heights.
KEY FEATURES
CREE® XLamp XP-L HI undomed LEDs using CREE's breakthrough SC5 Technology™

RFI and EMI suppression circuit. Guaranteed to not interfere with Radio or GPS Equipment

IP68 - Submersible to 3m

High Current Deutsch DTP-2 25A connectors

32mm diameter parabolic reflectors

Spread and Spot beam pattern

4mm thick 304 stainless steel side brackets included.

Cast Alloy adjustable sliding bracket included.

Nitto Denko™ Breather with PTFE microporous membrane

Very heavy-duty Smart Plug & Play ADR compliant Wiring Harness. (Switch, Dual Fuse, Dual Relay and HB3 and H4 Piggyback Adaptors) included
Tech Specs
| | |
| --- | --- |
| LED | 40 x CREE XPL Hi-Intensity LED |
| VOLTAGE | 9V - 32V |
| CURRENT DRAW (AMPERES) | 25.3a @13.6v |
| RAW LUMENS | 43,800Lm |
| EFFECTIVE LUMENS | 22,400Lm |
| PEAK INTENSITY (CANDELA) | 656,100cd |
| COLOR TEMP (CCT) | 5700K |
| LENS MATERIAL | Optical Grade, Hard-Coated Lexan |
| HOUSING MATERIAL | A360.0 Cast face plate, extruded Aluminum heat sink |
| INGRESS PROTECTION | IP68 |
| FLOOD BEAM | 50° |
| SPOT BEAM | 9° |
| LIFESPAN | 50,000hrs |
| OPERATING TEMP | -38°F ~ +140°F |
| WEIGHT | 10.93lbs |
What's Included
ST3303 PRO 40 LED 28.2 Inch Light Bar
Easy Fit High Beam Wiring Harness with H4 & HB3 adapters to High Beam
3 x Lower Mounting Brackets with Stainless Steel Fasteners
2 x 4mm thick Stainless Steel Side Brackets
2 x Orange End Caps
2 x Grey End Caps