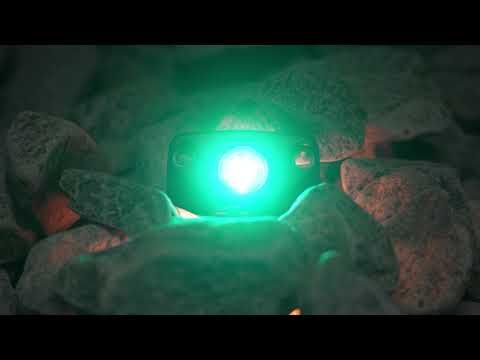 MOOD IS MAGIC.
Set the mood for your next evening outdoor adventure with the fully customizable color spectrum of the LED RGB Rock Lights, offering full control from your iPhone or Android device. The featured range of RGB combinations can be quickly adjusted for an ideal camping atmosphere, for the minimization of insects, or to provide subtle illumination while hunting.
HIGHLIGHT YOUR PERSONALITY.
With an endless range of application options, the RGB Rock Lights have been designed for you to show-off! Our RGB Rock Lights have been tested to an IP69K standard. This means that you are free to apply the lights to any desired position on your vehicle, while being sure that the lights will be able to withstand any water immersion or high-pressure spray downs. The smooth, non-invasive glare of the RGB Rock Lights is perfect for showcasing your vehicle's features in a unique fashion. Whether that is your canopy or suspension, our RGB Rock Lights are designed to take the character of your vehicle to the next level. Our Surface 6 LED RGB Rock Lights can also be matched with a Surface Rock 30-degree Angled Bracket, allowing for a more vertically directed illumination of the lower features and surroundings of the vehicle.
The nitty
gritty.
STEDI multi-function, multi-color RGB Rock Lights come included with a full wiring harness and a Bluetooth wireless controller. Simply download our free Android or App Store app, which will allow you to choose between 5 primary colors as well as infinite shade variations. The Bluetooth app allows you to customize brightness, colors or flash function.
APPLICATION
Engine Bay Lights
Rock Crawling Light
Reverse Assist Lights
On Deck or Side Rail Lights for Marine
Rear Cargo or Canopy Lights
KEY TECHNICAL DETAILS
Abrasion Resistant Lens and Finish
IP69K Standard (Bluetooth module rated to IP64 - Splash Proof. We recommend fitment away from the elements)
Environmentally sealed automotive connectors
6 to 1 Connector Included
High-Performance Philips LEDs
50,000 hours Lifespan
2 Year Warranty
Rubber Mounting Base
The cable can exit from the rear or side.
Rock light Cable Length 2 @ 16 feet Each Rock Light 4 @ 11.4 feet Length
Note that switching and colour changing will affect all lights, the module does not support control of individual lights.
Our RGB Rock Lights are perfectly suited for providing a more mellow and ambient light for your vehicle and its surrounds. If you are looking for a similar option with higher brightness, check out our 5700K LED Rock Lights.
Tech Specs
| | |
| --- | --- |
| HOUSING MATERIAL | Aluminum |
| LED | RGB |
| COMPATIBLE VOLTAGE | 9v to 24v DC |
| RED LUMENS | 283LM (each) |
| GREEN LUMENS | 498LM (each) |
| BLUE LUMENS | 201LM (each) |
| AMBER LUMENS | 244LM (each) |
| LIFESPAN | 50,000hrs |
| CURRENT DRAW | 0.3a @ 13.6v (each) |
| BEAM ANGLE | 120° |
| CONNECTOR TYPE | Sealed |
| CERTIFICATION | CE, E4, RoHs, R87, IP69K |
| OPERATING TEMP | -40°F - 140°F |
What's Included
6 x STEDI LED RGB Rock Lights
6 in 1 Connector Connectors and Wire
Bluetooth Junction Box
6 Rubber Pads with Stainless Screws & Bolts
Instructions Manual